Home | About | Our People | Events | News | Our Stories | Engage with Us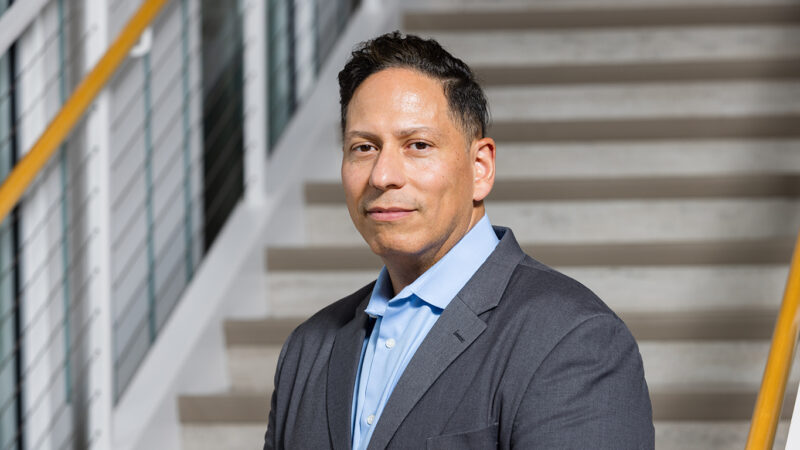 Vincent Guilamo-Ramos, PhD, MPH, LCSW, RN, ANP-BC, PMHNP-BC, FAAN, one of contemporary nursing's most respected thought leaders, change agents and scientists, is the recently-appointed director of The Institute for Policy Solutions at the Johns Hopkins School of Nursing.
Guilamo-Ramos, PhD, MPH, LCSW, RN, ANP-BC, PMHNP-BC, FAAN, was previously Dean and Bessie Baker Distinguished Professor of the Duke University School of Nursing and Vice Chancellor for Nursing Affairs, where he realigned the school's mission and strategic plan to advance health equity and social justice.
During his tenure at Duke, he infused a mission-driven approach to ending health inequities through consolidation and improvements to the nursing school's research infrastructure, curriculum development, recruitment of new faculty and leadership, and expansion of partnerships with organizations and funders that share his vision for health equity. In his own work as a health equity expert, Guilamo-Ramos founded the Center for Latino Adolescent and Family Health (CLAFH). He led the development of the CLAFH Framework for Harmful Social Determinants of Health (SDOH) Mitigation, an innovative roadmap for educators, practitioners, researchers, policymakers, and other stakeholders designing programs to mitigate harmful SDOH. The Framework has been described in peer-reviewed articles published in Milbank Quarterly, Nature Medicine, The Lancet HIV, and Nursing Outlook.
Prior to his appointment at the Duke University School of Nursing, Guilamo-Ramos held numerous faculty and administrative appointments at both New York University (NYU) and Columbia University. While at NYU, Guilamo-Ramos served as Pilot Projects and Mentoring Core director of a NIDA-funded P30 center and as Associate Vice Provost for Mentoring and Outreach Programs, a role in which he developed a university-wide mentoring infrastructure for the advancement of early career faculty with particular emphasis on underrepresented faculty.
Guilamo-Ramos is a nurse practitioner dually licensed in adult health and psychiatric-mental health nursing. His research examines the role of families in promoting adolescent and young adult health with a focus on mitigating the mechanisms through which harmful SDOH shape health inequities. Guilamo-Ramos' research has been federally funded for over two decades by the National Institutes of Health and various other extramural agencies. He has published over 100 manuscripts in leading peer-reviewed scientific and health journals including The Lancet Infectious Diseases, JAMA Pediatrics, Pediatrics, and the American Journal of Public Health. His work has been featured by national media outlets including CNN, NPR, The New York Times, Newsweek, and The Guardian.
Guilamo-Ramos serves as a member of the Presidential Advisory Council on HIV/AIDS, the HHS Panel on Antiretroviral Guidelines for Adults and Adolescents, the CDC/HRSA Advisory Committee on HIV, Viral Hepatitis and STD Prevention and Treatment, and on the boards of the Power to Decide, Latino Commission on AIDS, and HIV Medicine Association. Guilamo-Ramos was most recently appointed to the UnidosUS Board of Directors, and he currently serves on the National Academies of Sciences, Engineering, and Medicine (NASEM) Committee on Unequal Treatment Revisited: The Current State of Racial and Ethnic Disparities in Healthcare. Previously, he served on the NASEM committee on Prevention and Control of Sexually Transmitted Infections in the United States. Guilamo-Ramos is a fellow of both the American Academy of Nursing and the American Academy of Social Work and Social Welfare, an Aspen Health Innovators Fellow, and a Presidential Leadership Scholar.
Natalia Barolín, BA, BSN, RN is the Senior Health Policy Advisor in the Office of the Dean at the Johns Hopkins School of Nursing (JHSON). Working closely with Institute Director, Vincent Guilamo-Ramos, and the JHSON Dean, Sarah Szanton, Natalia is the conduit between the scholarly work and leadership at the JHSON and the Institute for Policy Solutions. She brings together her second career as a public health and oncology Registered Nurse with nearly 20 years of experience in strategic communications and media advocacy in health care and policy. Natalia began her nursing career in a federally qualified health center serving a primarily Latino immigrant population in Washington, DC and later worked in oncology care navigation with the Lombardi Cancer Center at MedStar Georgetown University Hospital before joining the CMS Innovation Center in 2019. Prior to becoming an RN, she worked as a project director in strategic and policy communications providing support and technical assistance to a range of government and nonprofit clients including the Robert Wood Johnson Foundation, the Institute of Medicine, the FDA Tobacco Regulatory Science Fellowship, and the Office of Training and Diversity in the National Institute of Allergy and Infectious Diseases. Natalia received her nursing degree from the Johns Hopkins School of Nursing and has a bachelor's degree in Latin American and Women's Studies from the University of Richmond. Natalia's family is originally from Uruguay and she speaks Spanish fluently. Natalia's experience helping her family fulfill their potential in the U.S. and navigate the U.S. health system, shaped her passion for social and health justice.
Joanne Kenen is the Inaugural Journalist-in-Residence at the Institute for Policy Solutions at the Johns Hopkins School of Nursing. She is a contributing editor to Politico Magazine, Politico "Nightly" and a regular panelist on KFF Health News "What the Health" podcast. She writes, speaks and teaches about a broad range of health and public health topics, including the role of nurses and nursing. She will divide her time between the School of Nursing and the Bloomberg School of Public Health, which she joined in 2021 and where co-teaches a class about public health and the changing media landscape, the topic of her forthcoming book.
Prior to coming to JHU in 2021, Kenen was at Politico for 10 years, overseeing its health coverage from the implementation of the Affordable Care Act to the coronavirus pandemic. She covered health for Reuters on Capitol Hill for more than a decade, reported on two national presidential campaigns and spent two years working on health policy at the nonpartisan New America Foundation. As a KFF fellow in 2006-07, she wrote extensively about aging and end of life. Her work has appeared in The Atlantic, KFF Health News, STAT, The Washington Post, Slate, Health Affairs, among other outlets, and she is a frequent speaker, moderator and TV and radio commentator. A graduate of Harvard, she has been an Inter-American Press Association Fellow, and a Harvard T.H. Chan School of Public Health Visiting Menschel Senior Leadership Fellow.
The Institute collaborates with a wide array of foremost experts who are on faculty at JHSON. Click here to see our experts.