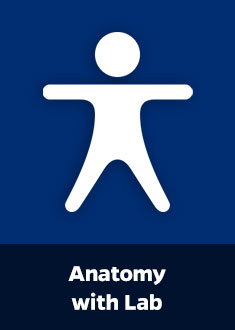 Tuition Cost
$350 per credit
Total: $1,400 per 4 credit course
Anatomy with Lab (NR.110.204)
Course Description
The Anatomy with Lab course will introduce components and structures of the human body at the level of gross and microscopic anatomy. Students will learn organ localization in the body and structural features comprising the different body systems. The body systems covered will include the skin, heart, lungs, and brain, among others. Upon completion, students will have an understanding of normal healthy anatomy that will prepare them for professional health programs. This course includes a virtual laboratory component designed to complement lecture topics. (4 credits).
SAMPLE Course Syllabus (pdf download)
Note: This is a SAMPLE course syllabus and does not necessarily reflect the most recent version of the course syllabus. Do not order the textbook found on this sample syllabus. For further information regarding materials for this course, please visit the Prerequisite Textbook Information page
Course Outcomes
Define the body orientation terms, including planes of section, directional terms, body regions, pleura and pericardium and organ systems.

Identify human body systems and major organs located in each system.

Describe the general anatomical structures and their locations associated with each body system.

Recognize the various layers and normal histology of the integumentary system.

List key components of the skeletal and muscular systems.

Describe the anatomical features of the cardiovascular and respiratory systems.

Detail the important anatomy of the brain and head.

Identify the gross anatomical structures of the digestive, urinary, and reproductive systems.
Required Textbooks and Course Materials
The textbook for this course will be used for both the Anatomy and the Physiology courses. This custom bundle includes an electronic copy of the textbook, access to resources and assignments within McGraw-Hill Connect, and access to Anatomy and Physiology Revealed 3.2.
For further information regarding materials for this course, please visit the Prerequisite Textbook
Information page.
LEARN MORE ABOUT ONLINE PREREQUISITES
Top-ranked Nursing School
Affordable
An introduction to the excellence of a Johns Hopkins education
Health-focused perspective delivered through a facilitated teaching approach (participatory, interactive, engaging)
Instructor led, online convenience
11-week format
Every nursing school has entrance requirements that are a little different, but for the most part, prerequisites for nursing school are similar. Here are prerequisites offered at the Johns Hopkins School of Nursing:
* Virtual labs are accepted at Hopkins Nursing, but not everywhere. Check your university and state licensure requirements for prerequisite courses.
* § Offered but not required for the Johns Hopkins School of Nursing MSN Entry into Nursing program.
The short answer is yes! Prospective students pursuing any discipline in need of supplemental coursework can now take instructor-led, undergraduate-level prerequisites all online at Johns Hopkins School of Nursing. Always speak directly with the program/school at which you are applying to confirm, but our courses are designed to align with requirements for other health programs like:
Occupational Therapy (OT)
Physical Therapy (PT)
Physician Assistant (PA)
Pharmacist
Pre-Med
Prerequisite Info Session and Virtual Classroom Tour, August 14, 2023.
Watch video demo of virtual classroom and labs.
For further information regarding required materials for all courses, please visit the Prerequisite Textbook Information page.
Contact us