Mental Health & Behavioral Interventions
Holistic Approaches on Mental Health
Because a host of factors contribute to mental disorders, a holistic approach is needed to address the biological, psychological, social, and spiritual needs of the person.
Johns Hopkins nurse clinicians, educators, students, and researchers work to address the continuum of mental health, from prevention to intervention, treatment, and recovery supports for individuals, groups, and populations. The goal for all is preventing mental and substance use disorders, removing barriers for those who need treatment, and promoting the health, well-being, and quality of life for all we touch.
Featured Content
Prevalence of depressive and anxiety symptoms is common among older adults, and it increases with age. Approximately 26 % of males report depressive and anxiety symptoms, while 27 % and 29 % of females report depressive and anxiety symptoms respectively. Similar studies report 26 % of older adults report anxiety symptoms. A potentially underappreciated risk factor for depressive and anxiety symptoms is dual sensory impairment (DSI), which is typically defined as the co-occurrence of hearing and vision impairments, both of which are highly and increasingly prevalent with advancing age.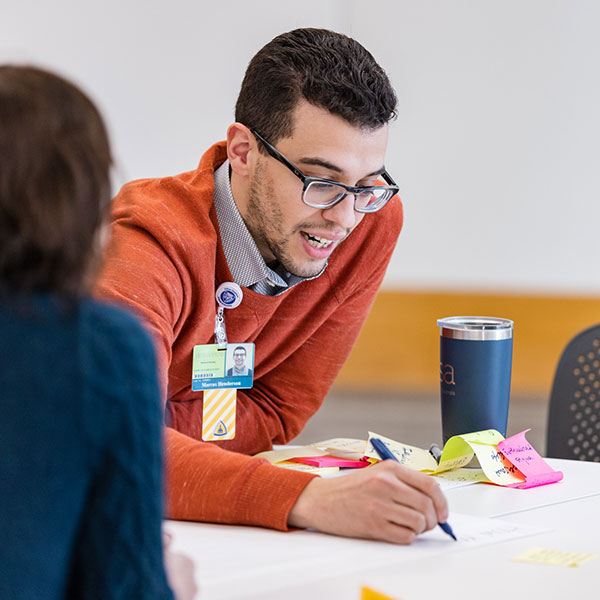 Centers and Initiatives
Our faculty-led, interdisciplinary centers and initiatives strengthen a focused area of scholarship in health care by providing an environment to expand the knowledge base, integrate specific education and practice initiatives, and mentor new scholars.
Karan Kverno
PhD, MSN, BS, RN
FAAN, FAANP
APRN, FNP-BC, PMHCNS-BC, PMHNP-BC
---
Karan Kverno is recognized internationally as an expert in psychiatric-mental health nurse practitioner (PMHNP) practice and education. She founded and led the planning and implementation of the innovative online Post-master's Psychiatric Mental Health Nurse Practitioner (PMHNP) certificate program, designed to build a workforce of dually certified NPs who will provide mental health care in collaborative or integrated […]
Continue reading
Tamar Rodney
PhD, MSN, BSN, BS, RN
APRN, CNE, PMHNP-BC
DNP Advanced Practice Psych Mental Health Track Coordinator
---
Post-traumatic stress disorder (PTSD) is a formidable opponent. Tamar Rodney believes the key to beating PTSD is acting quickly to identify the syndrome and giving the science time to catch up. Dr. Rodney is a board-certified psychiatric nurse practitioner who has worked in trauma and psychiatry. Her PhD research looked at biomarkers for PTSD in veterans with a traumatic brain injury. […]
Continue reading
Deborah Gross
DNSc, MS, BSN, RN
FAAN
Leonard and Helen R. Stulman Endowed Professor in Psychiatric and Mental Health Nursing
---
Deborah Gross is best known for her work designing and scaling behavioral health interventions that support families of young children from low-income, underserved communities and who may have experienced trauma and adversity. At Johns Hopkins, she holds joint appointments in the School of Medicine Department of Psychiatry and Behavioral Sciences and in the Bloomberg School […]
Continue reading
Emma Mangano
DNP, MSN, BSN, BA, RN
APRN
---
Emma Mangano is a family psychiatric and mental health nurse practitioner with more than 10 years of clinical experience. Dr. Mangano's areas of expertise include inpatient and emergency psychiatry, dual diagnosis, and geriatric behavioral health. Her clinical focus while working in the emergency department has been on the care of boarding patients and advocating for […]
Continue reading
Catherine Ling
PhD, MN, BSN, RN
FAAN, FAANP
CNE, FNP-BC
---
Catherine Ling's scholarship is focused on improving primary care for vulnerable populations. Her more than 25 years as a family nurse practitioner have centered on providing functional access to ambulatory care in community settings. As an educator, she provides innovative and rigorous curriculum and course design and delivery for quality learning and practice outcomes. Dr. […]
Continue reading
Videos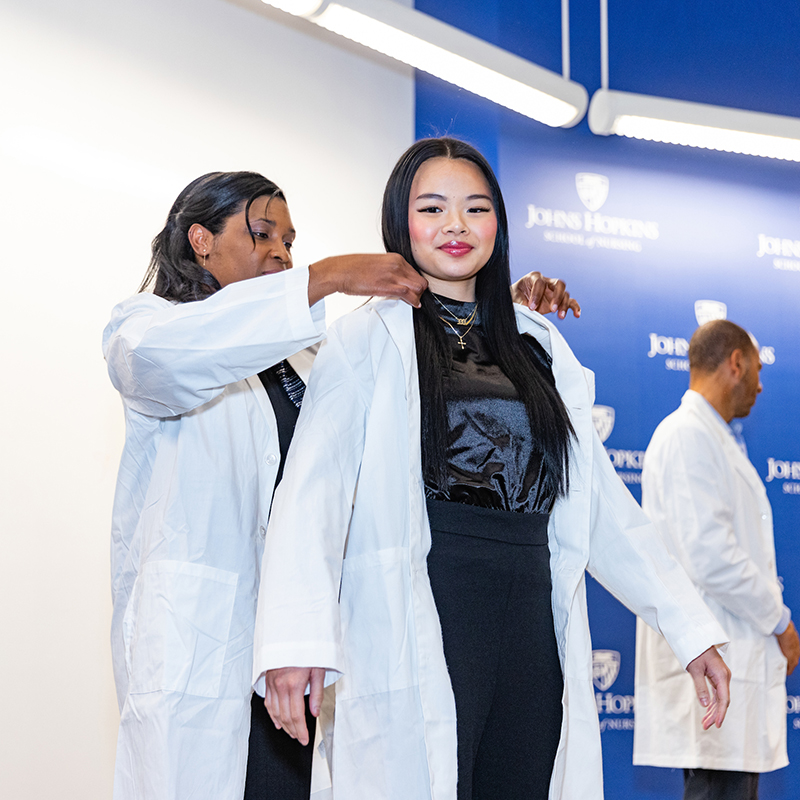 Academic Programs
The Johns Hopkins School of Nursing offers programs designed to fit the career and research goals of our diverse student population.
More Expertise To Explore