Can't Find Your Answer?
Don't worry, we have you covered. Just submit a question to the form below and a member of our Admissions staff will be in contact shortly. You can also contact us directly anytime at 410-955-7548, or use the directory to locate a specific member of our team.
Contact Us – Ask Admissions
Loading…
JOIN OUR MAILING LIST
Would you like more information about an academic program? If so, stay in the know by joining our mailing list and someone will be in touch with you in the near future. Thank you for your interest in Hopkins Nursing!
Interactive Map of Baltimore
From quirky neighborhoods like Hampden to the waterside gems Canton and Federal Hill to the youthful hangouts of Fells Point to the historic Mount Vernon (with the original Washington Monument) and lively downtown, there's a perfect place for you in Baltimore, and probably several such places. For those new to Charm City or just interested in finding a few new haunts, you have come to the right spot.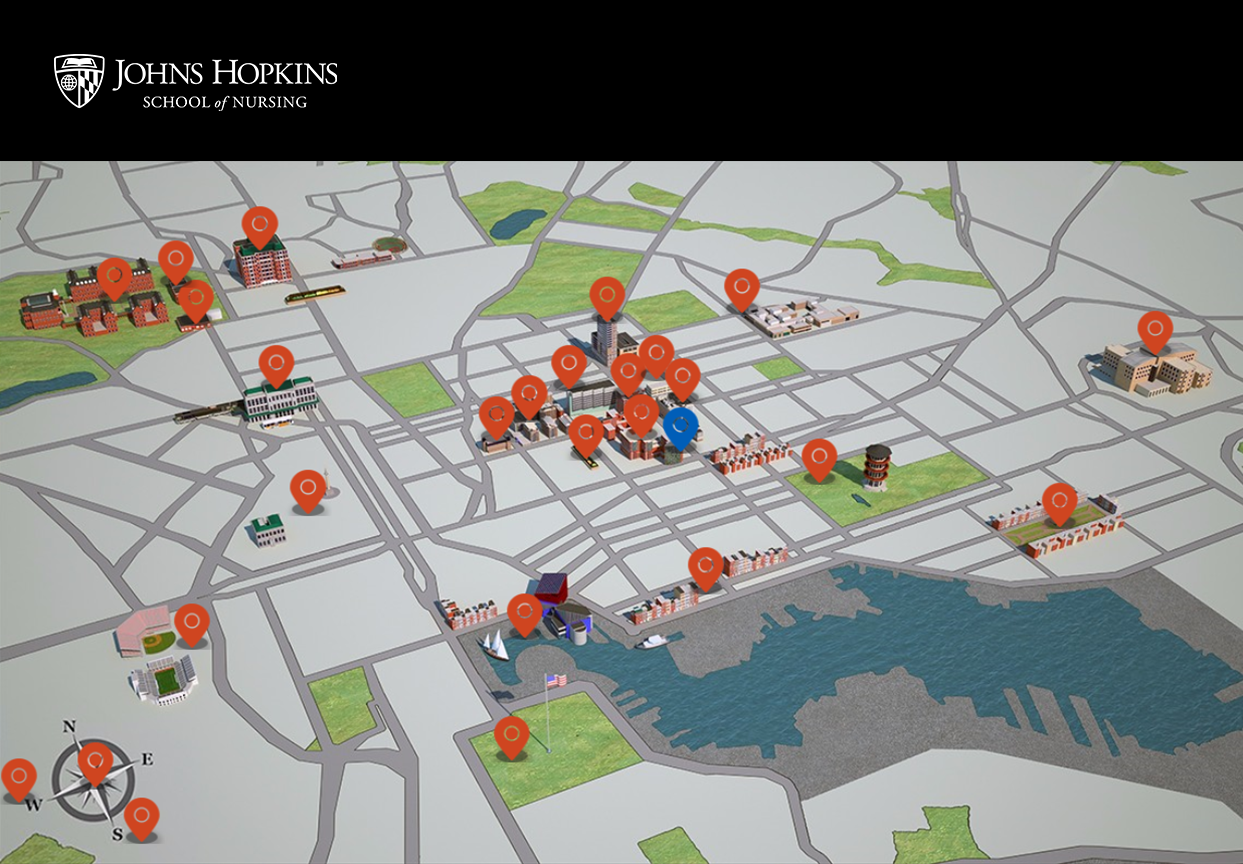 Frequently Asked Questions
You have questions, we have answers. Check out the answers to our most commonly asked questions below.
There are many opportunities to find out more about the programs offered at the Johns Hopkins School of Nursing. Join an admissions officer Monday – Friday, noon – 1:00 pm (EST) via Zoom for a virtual "Chat & Chew". No appointment necessary. We also welcome individual, in-person visits to campus by appointment (maximum of one guest in addition to the prospective student please). Email us at [email protected] to schedule.
Check out our Engage With Us page to see our upcoming virtual and on-campus events. You can also view our off-campus events (maybe we're coming to a city near you!) and view recordings from past virtual events.
A comprehensive chart exists with all deadlines. Deadlines are also located on each program webpage. View deadlines
The School of Nursing is proud to be a national leader in research. Our students have the opportunity to contribute to Hopkins research projects by working alongside experienced faculty members.
Yes, upon admission and prior to enrollment, students with a disability should provide documentation of a disability from an appropriate provider that identifies the type of disability, describes the current impact of the disability in an academic setting, and lists recommended accommodations, including any accommodations received from previous educational institutions.
Regardless of whether you have received accommodations at a previous institution, we suggest that you begin the process as soon as possible. Implementing accommodations can take several weeks, so it is important that you begin the process as soon as possible. For more information, visit our webpage at Student Disability Services | Johns Hopkins University School of Nursing (jhu.edu) or send an email to the Student Disability Services office.
Since on-campus housing is not available at JHUSON, students are responsible for locating a place to live. Many students elect to live at 929 Apartments, which is within walking distance of the School. The 929 Apartments provide both furnished and unfurnished apartments, along with many amenities such as a rooftop garden terrace, WiFi and a fitness center.
Many students also live in neighborhoods accessible by the JHU free shuttle. Charles Village is a neighborhood near the Hopkins Homewood campus and is only 10-15 minutes away from the JHUSON. Other popular neighborhoods include Mt. Vernon, Butchers Hill, Fells Point, Patterson Park and Canton.  For more information on living in Baltimore, visit the Baltimore Living and Housing Resources page here. 
The School of Nursing is located just east of downtown Baltimore and is surrounded by several neighborhoods with a diverse history and culture, including Fell's Point, Butcher's Hill, and Middle East.
As in any large city, you have to make smart choices regarding your own safety. Hopkins security officials recommend not leaving any valuables in your car, and parking on the street in the surrounding neighborhoods is discouraged.
An escort service is provided for students and staff in the evenings to move around the campus. If you choose to live close to campus and walk to school, try to walk in groups with other students. Instead of driving to campus, take advantage of the free shuttle services that Johns Hopkins offers.
Academic Advising is an important service at the Johns Hopkins School of Nursing (SON). Your Academic or Faculty Advisor is your primary resource regarding your educational experience.
Additionally, The Learning Collaborative is part of the School of Nursing's commitment to providing support and resources to enable students to succeed at the highest levels. The Learning Collaborative promotes student success by providing learner-centric, engaging, responsive, and interactive academic support for enrolled SON degree and certificate students. All The Learning Collaborative services are free.
No, we currently do not offer these programs. We offer the Master of Science in Nursing (MSN) Entry into Nursing program for non-nurses. It's designed for students who have earned a non-nursing bachelor's degree and want to become a registered nurse. This program enrolls students in the fall and spring semesters.
We accept courses from regionally accredited colleges and universities and also offer the prerequisite courses online at Hopkins.
You must submit all supplemental application materials to NursingCAS directly. Transcripts should be requested through the Academic History section of NursingCAS and supporting documents will be uploaded through the Program Materials section, Documents tab. Your recommenders will complete a Likert score evaluation and upload their written letter of recommendation directly into NursingCAS.
After an admission decision you will have about three weeks to respond to our offer.
Application fees are paid directly to NursingCAS, the School of Nursing does not charge any additional fees. NursingCAS does offer a limited amount of application fee assistance, visit their website for more information.
No, applicants can only pursue one program application per academic term at the Johns Hopkins School of Nursing. Applying to more than one program will prevent your application from being reviewed. Please connect with an admissions officer to help you determine the best program to meet your academic and career goals. A representative can be reached at 410-955-7548, [email protected], or consider joining us at one of our upcoming events!
Eager to get involved? Take your pick from a wide variety of engagement opportunities. Students are encouraged to participate in events on-campus, in Baltimore, and around the world! Most of the events are free to students or are provided at an affordable cost. Recognized student organizations are integral to the educational process at the School of Nursing and Johns Hopkins University. As a student at the School of Nursing you have access to all of the events and student organizations at Johns Hopkins University. Some of the organizations on the East Baltimore campus allow membership from students at the School of Medicine, Bloomberg School of Public Health, and School of Nursing (Tri-School Membership). Students may participate in several clubs and organizations within the School of Nursing, including the Nursing Student Senate. Visit the current list of Student Clubs and Organizations.
Need your questions answered?