Judgment-free Care, Provided Where People Live
From COVID-19 to HIV/AIDS to tuberculosis to whatever scourges await, locally and globally, the Johns Hopkins School of Nursing is prepping or polishing the tools of prevention and treatment.
COVID-19 is only the latest scourge to demonstrate the importance of knowledge, leadership, empathy, and humility. From HIV/AIDS to tuberculosis to whatever lies over the horizon, the Johns Hopkins School of Nursing is preparing or polishing methods of prevention and treatment.
Featured Content
People who inject drugs (PWID) have a greater burden of multimorbid chronic diseases than the general population. However, little attention has been paid to the engagement in primary care for services related specifically to injection drug use and management of underlying chronic comorbid diseases for this population. This systematic review identified facilitators and barriers to healthcare engagement in the primary care setting among PWID.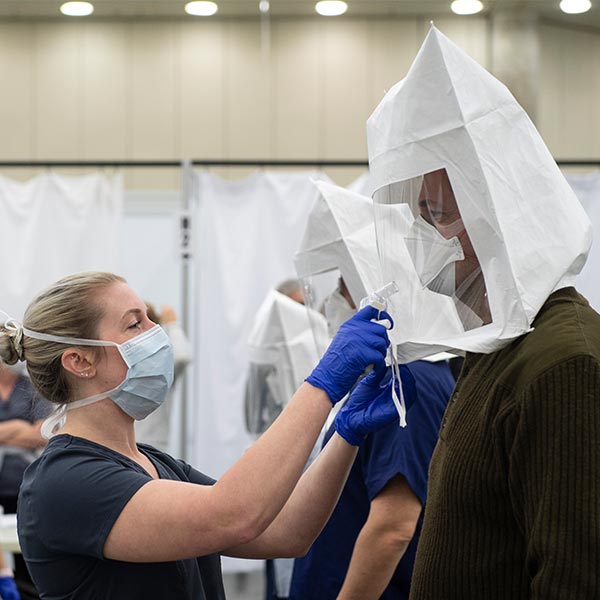 Centers and Initiatives
Our faculty-led, interdisciplinary centers and initiatives strengthen a focused area of scholarship in health care by providing an environment to expand the knowledge base, integrate specific education and practice initiatives, and mentor new scholars.
Jason E. Farley
PhD, MSN, MPH, BS, RN
FAAN
AACRN, ANP-BC, APRN
Leadership and Innovation Endowed Chair
---
Jason Farley is a world-renowned nurse scientist and the inaugural Leadership and Innovation Endowed Chair at the Johns Hopkins University School of Nursing. He directs the Center for Infectious Disease and Nursing Innovation. As an Infectious Disease Nurse Epidemiologist and a Nurse Practitioner in the Division of Infectious Diseases at The Johns Hopkins School of Medicine, […]
Continue reading
Leigh Montejo
DNP, MSN, BSN, BHS, RN
ARNP, FNP-BC
---
Leigh Montejo is a nurse educator with experience in distance education and incorporation of innovation, simulation, and technology to promote student engagement and improve learning outcomes in remote learning environments. As a nationally certified family nurse practitioner since 2011, Dr Montejo has been committed to improving care access through clinical practice in federally qualified health […]
Continue reading
Michelle Patch
PhD, MSN, BSN, RN
FAAN
ACNS-BC, AFN-C, APRN-CNS
Clinical Nurse Specialist Track Coordinator
---
Michelle Patch is board certified as an adult health clinical nurse specialist and an advanced forensic nurse. She has held progressive clinical, operational, and safety leadership positions in various acute care, ambulatory, emergency, and austere settings. Her internationally recognized scholarship and clinical practice address patient, staff, and public health safety, specifically during times of crisis, […]
Continue reading
Chakra Budhathoki
PhD, MS, BS
---
Chakra Budhathoki is a broadly trained applied statistician, an expert in the design, analysis, and reporting of both experimental research and observational studies. He has worked as a biostatistician with biomedical researchers in heart failure and HIV/AIDS and with nursing researchers in psychiatric nursing, HIV/AIDS, and cancer, among other topics. Dr. Budhathoki teaches Biostatistics and […]
Continue reading
Jennifer Milesky
DNP, MSN, BSN, RN
CCRN, CNE, NPD-BC
---
Jennifer Milesky is a registered nurse and nurse educator with two decades of bedside experience. Dr. Milesky's clinical expertise includes adult critical care, trauma, and nursing professional development, which was pivotal to her role in supporting non-ICU nurses transitioning to the ICU environment during the COVID-19 pandemic. Her work now focuses on supporting nursing students […]
Continue reading
Videos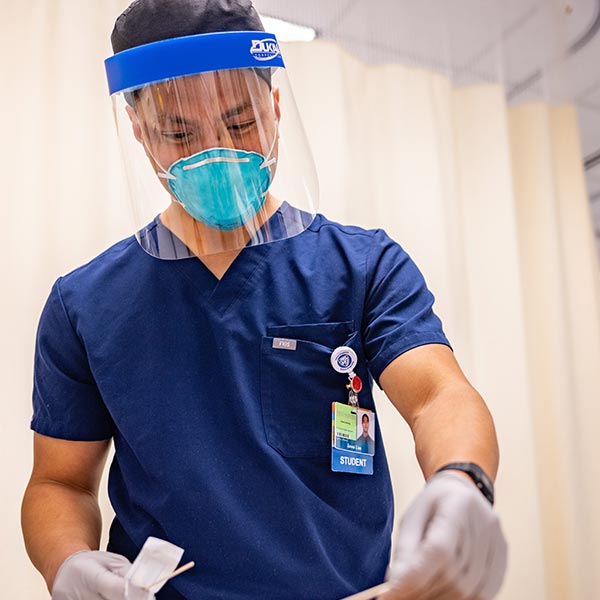 Academic Programs
The Johns Hopkins School of Nursing offers programs designed to fit the career and research goals of our diverse student population.
More Expertise To Explore