The Center for Equity in Aging Travel Award
This purpose of this award is to provide a financial award to distinguished students and post-doctoral students of the Johns Hopkins University School of Nursing who have been invited to present their aging and/or palliative care related scholarly works at a domestic or international conference.
Each recipient of this award will receive up to $750 to support travel expenses (i.e., hotel, airfare, registration) from the Center for Equity in Aging (CEA).
Applications are reviewed on a rolling basis. Recipients will be notified of their award within two weeks of application submission. Applicants are limited to one award.
Applicants must meet the following requirements:
Be a current student in good academic standing or a post-doc at the Johns Hopkins University School of Nursing

Be the lead author or the presenting person on an abstract submission accepted for poster and/or oral presentation at a domestic or international conference

The accepted abstract must be related to a CEA topic of interest including but not limited to: aging, geriatrics, dementia, and/or palliative care. Please contact the CEA if you are unsure if your abstract topic qualifies for this award

Must agree to present your accepted work at a CEA-supported event within 6 months of attending the conference

Provide a brief synopsis of your conference experience along with a photo at the conference for use on the CEA website and/or social media
All award applications must include the letter of abstract acceptance from the conference organizers.
Please contact the CEA at [email protected] if you have any questions about the application process.
Click Here for Application
Travel Awardees

Lyndsay DeGroot, AAHPM 2023 Annual Assembly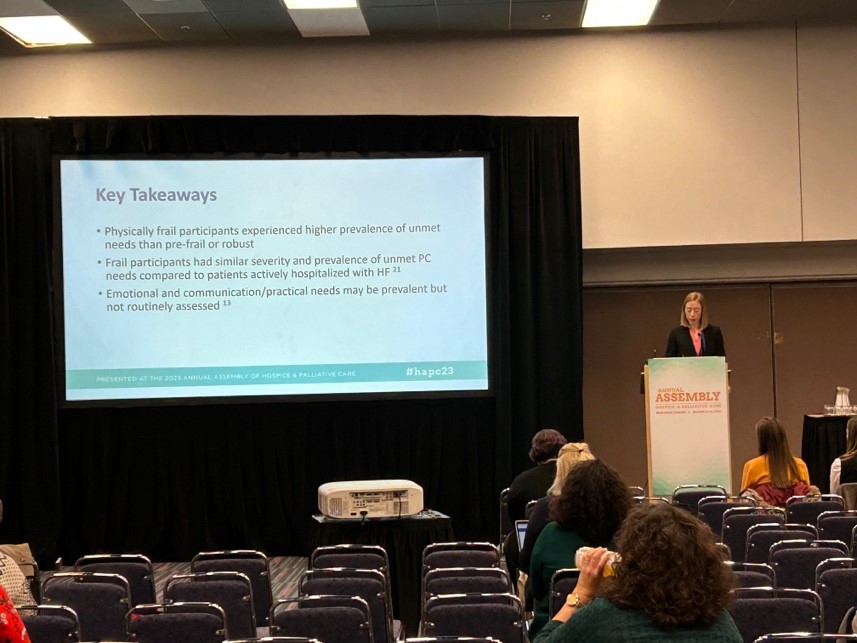 As an early career palliative care researcher, attending the AAHPM Annual Assembly was an incredible opportunity to present my dissertation research and learn from other researchers and clinicians who are also passionate about palliative care. In addition, I was able support two of my PhD colleagues from Johns Hopkins by attending their podium presentations! I also had the opportunity to meet several of researchers in person whose work has been incredibly influential to me, including Dr. Dio Kavalieratos and Dr. Shelli Feder. Through formal and informal networking, I connected with other palliative care researchers and clinicians from the University of Colorado where I will be a postdoctoral fellow in palliative care and aging this fall. It was so rejuvenating and energizing to attend AAHPM and learn from palliative care colleagues across a variety of institutions and specialties! I'm encouraged by the diversity of innovative research and clinical initiatives which promote quality of life for patients and their families across the lifespan. I'm incredibly grateful to the Center for Equity in Aging for the financial support to attend!

Marlena Fisher, AAHPM 2023 Annual Assembly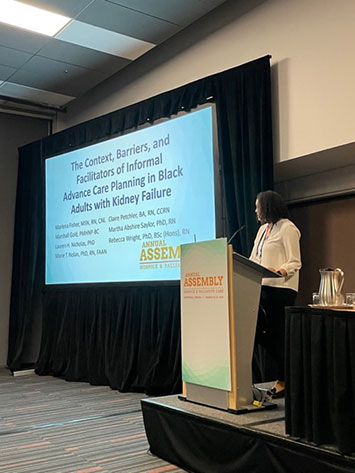 I attended The Annual Assembly of Hospice and Palliative Care in Montréal Canada. It was a great honor to be selected to present the qualitative aim of my dissertation research in a 15-minute podium presentation entitled "The Context, Barriers, and Facilitators of Informal Advance Care Planning in Black Adults with Kidney Failure". This was my first time attending this conference and it was absolutely amazing to be in the presence of so many like-minded researchers who are focused on improving end-of-life care for all. The main benefit of attending the conference was to network with other researchers, meeting one of my mentors, Dr. Justin Sanders, in person for the first time, and disseminating some of the results from my dissertation research.