Conversations on Structural Racism and Resilience across the Lifecourse
Tune in as we engage cutting-edge scientists, policy experts, and thought leaders to better understand structural discrimination, resilience, and the impact on aging across the lifecourse. The podcast series features conversations with experts to explore the health disparities caused by structural discrimination and discuss programs and policies that aim to move the health equity needle. If you have guest suggestions, reach out to us at [email protected].
Play the Trailer

Download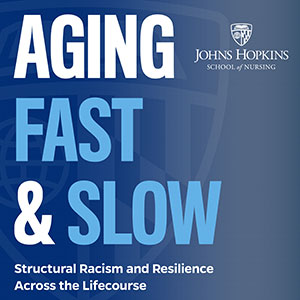 View Episodes and Subscribe

Subscribe Today
Apple Podcast | Spotify | Stitcher
Hosts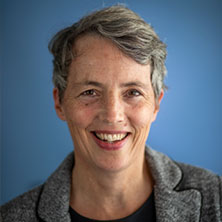 Sarah L. Szanton, PhD, ANP, FAAN researches ways to advance health equity through policy-relevant measurement and intervention. Szanton is the Dean and Health Equity and Social Justice Endowed Professor at the Johns Hopkins School of Nursing. Her three streams of research are on racial discrimination and resilience, developing ways for older adults to live independently as they age, and policy solutions for financial strain. She has received numerous honors for her work, including an NIH Pioneer award, the Heinz award and National Academy of Medicine membership.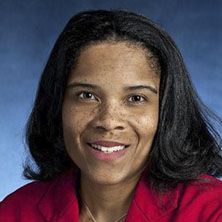 Deidra Crews, MD, ScM, FASN, MACP researches ways to mitigate disparities in the care and outcomes of chronic kidney disease. Crews is a Professor of Medicine at the Johns Hopkins University School of Medicine and holds faculty appointments with the Center on Aging and Health and Center for Health Equity, where she is Deputy Director. Her research program aims to advance equity in kidney disease and hypertension outcomes by focusing on social drivers of health inequities. An elected member of the American Society for Clinical Investigation, Dr. Crews has received numerous awards for her research contributions, including the 2018 Johns Hopkins University President's Frontier Award given to a faculty scholar on the cusp of transforming their field.

Podcast Episodes
Season 3 – 2023
From enduring the consequences of forced displacement and cultural disruption to grappling with inadequate resources and discriminatory policies, Native American communities have faced multifaceted challenges that have deeply impacted their ability to receive equitable and effective healthcare. Join us in this enlightening episode as we engage with Dr. Emily Haozous, a distinguished Research Scientist at the Pacific Institute for Research and Evaluation. Through the lens of her research, Haozous delves into the historical and systemic conditions that have limited healthcare access for these communities, uncovering deeply rooted challenges and disparities. Her pioneering contributions shed light on these critical issues, striving to bridge gaps in understanding and advocating for impactful change within these healthcare systems.
References
Structural racism has attracted increasing interest as an explanation for racial disparities in health. But structural racism has often been measured using single-indicator proxies such as housing discrimination. This approach leaves important aspects of structural racism unaccounted for. We kick off season 3 with social epidemiologist and associate professor at the Johns Hopkins Bloomberg School of Public Health, Dr. Lori Dean. Dean is leading the way in exploring new definitions and methods to measure structural racism. Dean discusses her groundbreaking research delving into the influence of individual- and neighborhood-level social and economic factors on health disparities and outcomes for those managing chronic illnesses.
Reference
Season 2 – 2023
Season 1 – 2020
This podcast is supported by the National Institute On Aging of the National Institutes of Health under Award Number DP1AG069874. The content is solely the responsibility of the authors and does not necessarily represent the official views of the National Institutes of Health.