Jermaine Monk, PhD, MSW, MS Mgmt, MA Th, MA
Associate Dean of DEIB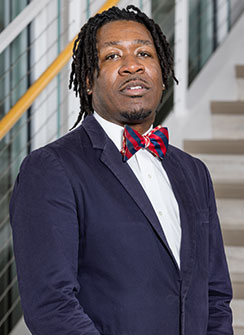 Dr. Jermaine J. Monk is a passionate visionary and accomplished teacher, scholar, and academic administrator. He brings over a decade of experience in higher education in the development and implementation of research, teaching, mentoring, and advisement of underrepresented and marginalized student populations. Prior to arriving at Johns Hopkins School of Nursing, Jermaine held faculty and administrative roles at the City University of New York, Rutgers, Temple, and Drew Universities. His commitment to diversity, equity, inclusion, and belonging includes building out a structured faculty-student centered diversity and inclusion platform that includes curriculum design. In addition, he supports faculty, staff, and students by designing, implementing, and facilitating professional training programs to support institutional and organizational effectiveness.
Sparked by national events, Jermaine has reaffirmed his commitment to advocate for the protection of undocumented students, raise awareness of LGBTIQA+ issues, increase accessibility for those physically or mentally disabled, and address inequities based on gender. He has published and presented widely on diversity issues and has received a number of leadership awards.
Dr. Monk holds a PhD and MA in Urban Systems, a joint program between the School of Nursing and School of Public Affairs at Rutgers University and the New Jersey Institute of Technology. He completed a MS in Business Management from the University of Illinois, Urbana-Champaign; earned an MA in Theological Studies from LaSalle University; received an MSW from Temple University; and a BA from the Edward J. Bloustein School of Urban Planning and Public Policy at Rutgers. In addition, he completed a certificate in Leading for Equity, Diversity, and Inclusion in Higher Education from the University of Michigan, earned an advanced certificate in business management from the Wharton School of Business at Penn, as well as advanced certificates in Social and Emotional Learning from the University of Colorado-Boulder and Yale University.