Fundamentals of Research Coordination: A Course for Research Staff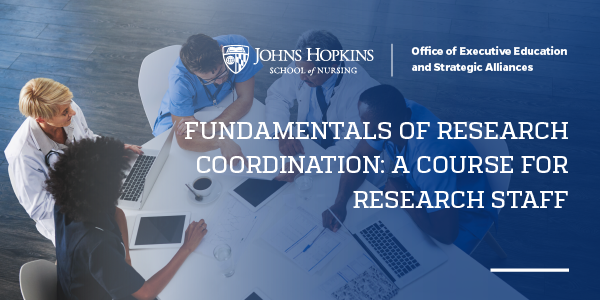 OVERVIEW
The detailed work of implementing a research study is often delegated to the research coordinator or nurse. Research staff are frequently responsible for managing grants and budgets, preparing regulatory submissions, writing study protocols, creating data collection forms, managing databases, developing recruiting plans, and supervising others. Individuals in this role know all too well the difficulties of learning on-the job. This course teaches you the skills to be successful in research coordination and gives you an overview of topics needed to sit for the Association of Clinical Research Professional exam, enabling certification.
Already certified? This course also keeps you current in research topics.
This course has three components to help you strengthen your research career:
Online Modules
In-person or Virtual Program
Research Webinars
REGISTRATION
LOCATION
JHU School of Nursing
525 N. Wolfe Street,
Baltimore, MD 21205
Upcoming DatesSeptember 2023
9/12-9/13, 9:30 AM- 5:00 PM
9/14, 9:30AM-2:00 PM
CONTACT INFORMATION
Executive Education
S[email protected]
TUITION
General rate: $2,500
Includes the online orientation modules. Eligible for JHU Tuition Remission.
Prior to the virtual course, participants are required to complete the self-paced "Online Orientation for Research Staff"—a nine-module interactive orientation to provide baseline information and common terminology pertinent to research coordination.
During this course, lectures and case studies are used to encourage discussion, and each session is guided by Johns Hopkins subject matter experts. Participants receive research regulations, ethics documents, and copies of all presentations, along with supplementary reading material and resources for independent learning outside of the class.
Tuition is $2,500 which includes the onsite class and online orientation modules.
TOPICS INCLUDE:
Ethical Consideration
Roles & Responsibilities
Budget & Finance
Recruitment & Retention
Regulatory File Maintenance
Informed Consent
Data Collection & Management
Institutional Review Boards
Adverse Events & Protocol Deviations
Quality Assurance & Quality Control
Tuition does not cover the cost of accommodations. Several area hotels offer complimentary shuttle services or transportation vouchers to JHU. Learn More.
​Each quarter the Johns Hopkins School of Nursing Office of Executive Education hosts a free 1-hour webinar in which experts will discuss a relevant topic related to the research field.
Each webinar is worth 1.0 CE credit and each participants receives a certificate after completing the webinar.
Full Program (virtual course and online modules): $2,500
Research Webinars: Free
Research Organizations at JHU
Research Staff Professional Organizations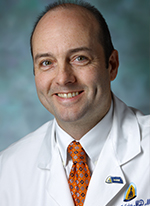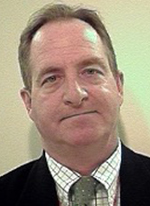 Fred Luthardt, DBE, MA
Director, Compliance Monitoring Program Research Participant Advocate Johns Hopkins Medicine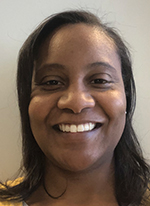 Cassie Lewis-Land, MS, CCRP
Program Administrator, Recruitment Innovation Unit Institute for Clinical & Translational Research Johns Hopkins Medicine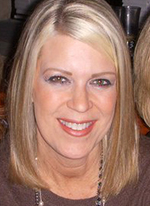 Liz Martinez RN, BSN, CCRC
Research Participant Advocate Institute for Clinical and Translational Research Johns Hopkins University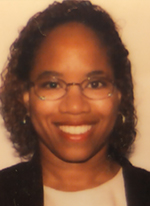 Janet M. Palmer
Sr. Grants & Contracts Analyst Research Management Services (RMS) Johns Hopkins School of Medicine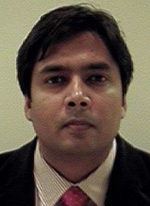 Tariq Syed, M.S, Pharm. D.
Sr. Research Subjects Specialist, JHSPH Staff Drug Specialist, JHSPH Clinical Research Pharmacist-IDS, BPRU (On Call) Johns Hopkins University
Stephanie Swords, MA, CCRP
Research Program Director, SCAMP Institute for Clinical & Translational Research (ICTR) Johns Hopkins Medicine
REFUND POLICY
Refunds, less a $200 processing fee, are provided to participants who cancel at least 30 days prior to a program offering. Requests to cancel received less than 30 days prior to a program will be offered registration in a substitute program, less a processing fee.
Note: If JHU tuition remission is used for payment, refunds will be provided until one week prior to the program.
CANCELLATION POLICY
Johns Hopkins University reserves the right to cancel a course due to low enrollments, in which event the enrollment fees for the course(s) will be refunded. If a course is canceled, applicants are notified immediately and are processed a full refund unless another course is requested.
Course registration will remain open until the designated deadline or until the course is full. If an applicant has registered, but has not submitted payment, their space in not secure for the course and no refund is needed.
INCLEMENT WEATHER POLICY
When the university is open during inclement weather, all attempts will be made to hold scheduled programming.
When the university is closed, all classes are cancelled.
When the university opens late, a decision will be made regarding the course as appropriate. Notifications will be sent via e-mail to all participants as early as possible.
Emergency Alerts, including weather related alerts, can be found by clicking the link "Emergency Alerts".
This 16 contact hour educational activity is provided by The Institute for Johns Hopkins Nursing and Johns Hopkins School of Nursing. The Institute for Johns Hopkins Nursing is accredited as a provider of nursing professional development by the American Nurses Credentialing Center's Commission on Accreditation.
The Institute for Johns Hopkins Nursing and the American Nurses Credentialing Center do not endorse the use of any commercial products discussed or displayed in conjunction with this educational activity.