Posted: 9/13/2011
Johns Hopkins University School of Nursing (JHUSON) faculty and students begin another academic year with a host of awards and achievements that recognize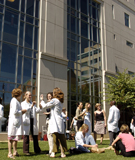 their commitment to research and practice.
Doctoral student Rachel Klimmek received the JHUSON 2011 Graduate Teaching Assistant Award for "applying creative approaches to helping students learn the complex challenges of caring for older patients," according to Klimmek's nomination. The award recognizes a graduate teaching assistant who has demonstrated exceptional performance in the classroom, innovation, and commitment to learning at the School of Nursing in which high-quality teaching is acknowledged as the standard of performance.
Mary Paterno, another doctoral student, was the winner of the 2011 PhD Student Published Paper Award, which recognizes the best published paper led by a doctoral student that was in a refereed journal between June 2010 and June 2011. Paterno's paper, "Evaluation of a student-nurse doula program: An analysis of doula interventions and their impacts on labor analgesia and Cesarean birth," will appear in the Journal of Midwifery and Women's Health later this year. Paterno co-authored the paper with JHUSON faculty member Shirley Van Zandt, MS, MPH, RN, CRNP, and fellow doctoral student Jeanne Murphy.
Associate professor Kathleen White, PhD, RN, FAAN, and Hopkins School of Medicine faculty member Sharon Dudley-Brown co-authored, "Translation of Evidence into Nursing and Health Care Practice," a recently published book that focuses on translating evidence into practice, a doctor of nursing practice (DNP) course competency. The book is divided into three sections, addressing theoretical and practical challenges to translation of evidence into practice, methods and translation techniques to employ this translation across settings, and evaluation strategies to demonstrate improvement in practice and clinical care outcomes.
Master's students Emily D. Johnson and Anna Lamasa each received a $40,000 CareFirst BlueCross BlueShield Project RN scholarship to be disbursed over the next two academic years. Johnson began her part-time master's studies in the SON Pediatric Nurse Practitioner option in the fall of 2010, but the Project RN Scholarship will allow her to pursue full-time graduate studies and complete her degree in December 2012. Lamasa, a registered nurse from Kennedy Krieger Institute in Baltimore, is also enrolled in the Pediatric Nurse Practitioner option, and will graduate in May 2013 thanks to the financial assistance of the Project RN Scholarship. Project RN funding is aimed at equipping nurses with the technology and skills to prepare the next generation of nurse educators.
Associate dean for Academic Affairs Pamela Jeffries, DNS, RN, FAAN, and instructor Kathryn Kushto-Reese, MSN, RN, will be presenting "Using Simulation to Teach Care of Special Populations: Pediatrics, Gerontology and Psychosocial Nursing" at a pre-conference workshop at the National League for Nursing (NLN) Education Summit in Orlando, FL September 21-24. The workshop focuses on development of knowledge about simulation pedagogy, providing tools for faculty to use when debriefing, and informing faculty on best practices to integrate simulation across the nursing curriculum.