Posted: 8/16/2011
Awards, grants, and publications show the continuing success this summer of faculty and students at Johns Hopkins University School of Nursing (JHUSON).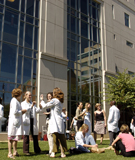 Associate professor Patricia Abbott, PhD, RN, BC, FACMI, FAAN, and four researchers from the University of Alabama, Columbia University, Oregon Health and Science University, and Duke University, were awarded a $1.8 million grant in April to develop curriculum instructional materials to enhance workforce training programs primarily at the community college level. Abbott and her team created 20 three-credit courses available free of charge to the public. The courses (which address topics such as health IT systems, networking, and project management) come fully developed with PowerPoint slides, readings, transcripts, assessment materials, assignments, and instructor manuals.
Undergraduate student Emily Hoppe, Traditional '12, was recently selected as an American Psychiatric Nurses Association Janssen Student Scholar for 2011. The scholarship was established in partnership with Ortho-McNeil Janssen Scientific Affairs in order to recognize outstanding graduate and undergraduate nursing students who have demonstrated a passion for psychiatric mental health nursing, and to help foster the professional growth and development of these students within the psychiatric mental health nursing field. The scholarship will provide Hoppe with free travel, lodging, and registration to attend the annual APNA conference in Orlando, FL October 19-22, plus a one-year complimentary membership to APNA and a small stipend.
Assistant professors Sarah (Jodi) Shaefer, PhD, RN and Mary Terhaar, DNSc, CNS, RN, were co-authors for "Translating Infant Safe Sleep Evidence Into Nursing Practice," which was one of five papers nominated by the Journal of Obstetric, Gynecologic & Neonatal Nursing (JOGNN) for the 2011 Best of JOGNN Writing Award.
Professor Laura N. Gitlin, PhD, served as a committee member for "Health Care Comes Home: The Human Factors," a report recommending steps that the Food and Drug Administration and other agencies and professional associations can take to ensure that medical devices and health information technology used in home health care are easy and safe for laypeople to use and that caregivers are well-trained. Gitlin was selected for the committee because of her expertise as a sociologist and home- and community-based intervention research with older adults.