Elsie Peyton Jarvis Star Nurse Award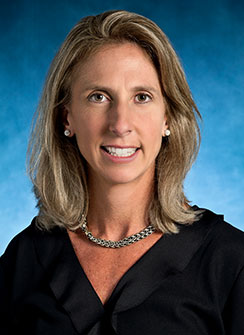 Eleni Flanagan, DNP, MBA, RN-BC
Director of Nursing, Department of Medicine and Radiology

Eleni is a proud Hopkins Nurse for 27 years. Currently, she is the Director of Nursing for the Department of Medicine and Radiology and part time faculty at the JHSON. Eleni works with the Johns Hopkins Activity and Mobility team, engaging leaders and frontline staff in activity and mobility promotion.

Nomination:
Eleni is the Nursing Director of JH-AMP and has been instrumental in developing the 8-step framework based on the Translating Research into Practice Quality Improvement model. This interdisciplinary framework has demonstrated positive outcomes in reducing hospital acquired harms and realizing positive hospital outcomes. While this program in interdisciplinary the first lift is establishing nursing roles, responsibilities, infrastructure and key performance indicators. Eleni has been instrumental in developing the new mobility promotion framework and engaging nursing stakeholders.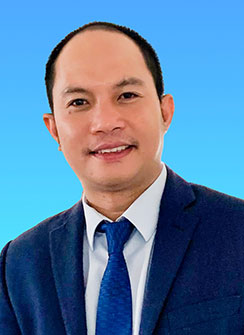 Jonathan Espenancia, BSN, RN, CMSRN
Charge Nurse, Carol Ball Medicine Unit; Clinical Lead Nurse (RN IV) Education; CLABSI Prevention Team Lead; Cg-CHair Shared-Governance; Ch-Chair Woulnd and Education Committee; Patint Care Technician/Nurse Liasion; Mobility/CHF Champion; Narcotic Diversion Unit Champion; Collaborative Rounding (Physician-Nurse) Champion; Safety Rounds (HERO) Champion; Point of Care Glucometer Trainer; TeamSTEPPS Master Trainer

Nomination:
Jonathan is a compassionate, and dedicated nurse leader in Carol Ball Medicine Unit, JHBMC. He began working on the unit last 2012 as an Agency Nurse with ICU experience but fell in love of caring for medical/surgical patients. According to him, knowing that you've helped not only one but 6 patients and their families every day, has shown him how nursing can influence and contribute great impact to their lives, which makes nursing more rewarding. He champions a culture of learning, leadership, mentorship and quality improvement in the unit.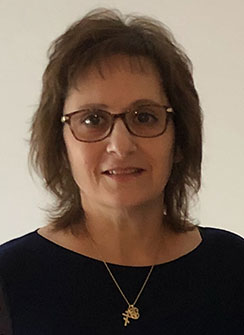 Deborah Billings, BSN, RN, CPN
Clinical Coordinator, Pediatric Emergency Department

I have been a nurse for 30 years, but started in the Pediatric Emergency Department at Howard County in 2008. I became the Clinical Coordinator in 2017. Safety issues are a priority for me, so being the CUSP Champion for the Department has allowed me to work with the amazing medical team here in Pediatrics to improve processes on the unit and hospital wide.

Nomination:
Debbie worked meticulously on updating policies for pediatric behavioral health patients. She created tip sheets, resource binders, and in-person education with her staff which included nurses, providers, PCT's, patient clerical, social work, and the constant observer group. Her willingness to collaborate, be present and support the team made this initiative successful. Debbie infuses the unit with positivity, a can-do attitude and a work ethic that reflects what all leaders wish to have in their staff.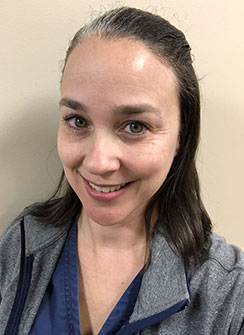 Christine Fennell, RN
RN, 7 West/ECT

With a BA in Criminology and nearly a decade in the restaurant industry, I began my nursing career in October 2014 as a new grad at Sibley in the inpatient psychiatric unit. For the last year I have worked as one of the coordinators for the outpatient ECT clinic.

Nomination:
She navigated and rearranged workflows in the context of the changing rules and climate in COVID times. She coordinated COVID testing for series patients and coordinated with providers if our patients tested positive in the series. She provides excellent patient care and is constantly making sure the patient getting the best care while coordinating with psych techs, PACU team, physicians and anesthesiologists. She is unflappable even when dealing with emotional demands of our acutely ill patients.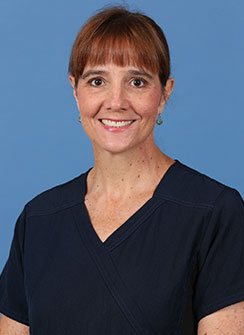 Linda Simpson, BSN, RN, OCN
Assistant Manager, Oncology

During her 10 years in oncology at Suburban, Linda has been committed to advancing her practice through continuing education, Oncology Nurse Certification, and chairmanship of the Evidence-Based Practice and Research Council. Her practice emphasizes mentorship and development of newer nurses and the crucial role of patient education in improving outcomes.

Nomination:
Linda establishes relationships with the oncology patients that last long after discharge. She frequently stays connected to them. She most recently won the annual Brown Excellence in Oncology Award.

In addition to the relationship she has with patients, she has similar relationships with the staff. She is constantly checking in with staff as they grow in their careers and is available to give any guidance or counseling needed. The staff know that she is a trusted ear and her advice is always well received.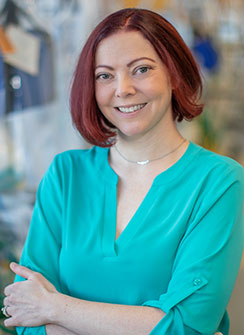 Katie Bryant, BSN, RN, RNC-NIC
NICU Education Specialist

I began my career with JHACH as a PCT in 2013. From the moment I set foot in the NICU, I knew that's where I wanted to spend my career. I am happy to call St. Petersburg, Florida home and live there with my husband, our 3 cats (Saki, Ricky Bobby, and Mrs. Peggy Meemers), and our dog, Dixie.

Nomination:
Katie is a shining star in our NICU. As an educator, she has shaped the future of nursing in our NICU and it is BRIGHT. No order is too tall for her and she consistently challenges the status quo. She is thoughtful and intentional in her approach. In the last year, she has completely revamped our NICU RN Residency orientation utilizing the Tiered Skills Acquisition Model (TSAM). This is just one of the MANY initiatives she has started. She is a remarkable teacher, compassionate leader, and truly encompasses what it means to be a nurse. She is a true asset to our patients, team, and organization.
Additional Awards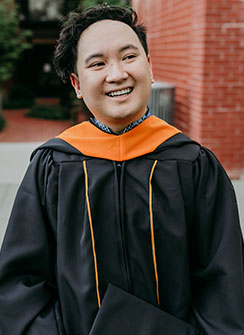 Erick Jason Reyno, MSN, RN
DNP Advanced Practice Student

Erick is a DNP Psychiatric-Mental Health NP student, working as a Graduate Nurse at Hopkins' Psychiatry. Erick Is passionate about mental health advocacy, leadership, and mentorship. Erick's goal is to be a mental health advocate involved in policy writing, nursing educator, and provide mental health care to underserved adolescent populations.

Nomination:
Erick exudes passion in all that he does. In his time at Johns Hopkins, this passion led to his launching of two student organizations: the Psychiatric Mental Health Interest group and the AAPI group. In addition to being an exceptional student leader among his peers, Erick has been a valuable asset to Dr. Lukkahatai's research team as a research honors student and has put a smile on everyone's face through his work for the Hopkins Nursing social media team. By exhibiting such essential leadership qualities, Erick encourages others to rally around him in his passion and join him in doing meaningful work.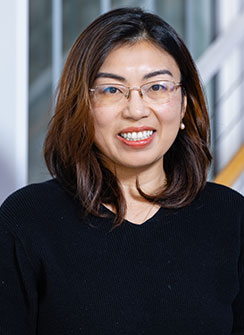 Junxin Li, PhD, MS, RN, FAAN
Assistant Professor, Johns Hopkins School of Nursing

Dr. Li works to promote health and well-being of older adults, particularly by understanding how physical activity and sleep affect cognitive function. Research interests include the associations between daytime activities, sleep, and cognitive function; the biological mechanisms for these associations; the short- and long-term impacts of daytime napping on cognitive functions; and testing individually tailored interventions implementing mHealth technology to promote healthy aging.

Nomination:
Dr. Junxin Li is a remarkable research mentor. She believes in her students and, in my case, always encourages me to take on challenges such as submitting abstracts to the Gerontological Society of America, contributing to her ongoing clinical trials with helpful training, and writing my own manuscript. Dr. Li is a brilliant, approachable mentor whose passion shines through her diligent work in the field of aging, particularly in her research investigating mobile health interventions to improve physical activity, sleep, and cognition in older adults. It is an honor to learn from her and work under her supervision.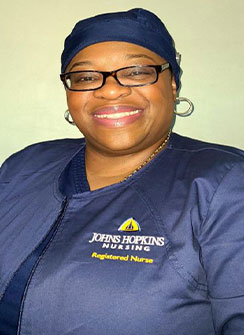 Natasha Vanholten, BSN, RN, III
RN, 6 Surgical Unit

Natashia Van Holten received her Bachelor of Arts in Science in the United States Virgin Islands. She started her nursing career at Johns Hopkins Bayview and is presently an ACE Nurse on the Surgical Unit. For 22 years, she has upheld the motto of nursing excellence, implemented evidence-based practices, and mentored many nurses. As a preceptor, Natashia believes precepting is an exchange of knowledge whether you are a novice or a seasoned nurse. The nursing profession and practice are constantly changing, and we all have room to learn and grow.

Nomination:
There is not a day when Natashia works that she is not recognized or appreciated by her patients to the extent that she receives so many accolades from her patients writing her letters of appreciation. And for all this recognition, this is not an exception for Natashia; what she does every day and how she cares for her patients is who she is, which transcends to the rest of the staff, nurses, and patient care techs on how they care for their patients. They watch and emulate Natashia going above and beyond to care for her patients, whether big or small.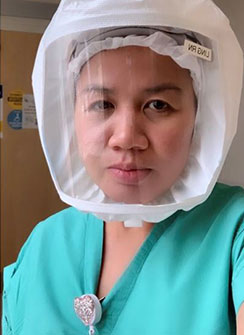 Lingerlyn Espenancia, BSN, CMSRN
Lead clinical of Float Pool/SSU; Charge nurse and a preceptor; Float Pool/SSU Mobility representative; Hospital wide hand hygiene auditor; Member if Float Pool?SSU Shared governance team

Being a floater gives her an opportunity to meet new people and work with multicultural patients. Ling works in all medicine-surgical units including vent and rehab of JHBMC, when ED and IMC units were extremely short-staffed during the pandemic, she extended her training to those units. She solidifies her worth by acting as a charge nurse for the newly opened covid and medicine surgical units. When COVID-19 restrict the visitors and loveones away, she heartily connects them virtually.

Nomination:
Countless golden heart stories that have been shared but one touching moment that gave me goose bumps was while she was working in the NP3 (COVID) unit, she had an elderly female patient who was transferred from MICU, in her end of life, and her 2 family members, a daughter and a son, would constantly (every hour) call her, asking for updates. Through call conversation, Ling noticed that the son needed a closure. The son was able to say his "goodbyes" and "I love you" to his mom, he needed that closure, everybody does.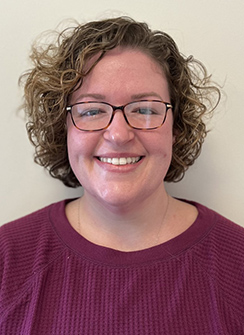 Laura Selway, MSN, RN, PCNS-BC, RNC
Clinical Nurse Specialist, NICU

Laura Selway is a nurse with 18 years' experience in Neonatal Intensive Care nursing at Johns Hopkins Hospital. A native Marylander, Laura completed her Masters in Nursing, Clinical Nurse Specialist track in 2008 from Johns Hopkins University. Laura's interests in her clinical nurse specialist role include mentoring nursing graduates and CLABSI and Unplanned Extubation prevention. She actively collaborates within the Children's Center on best practices as NICU patients "graduate" from the NICU to other units. Outside of work, Laura stays busy with her husband, Dominic and three children, Megan, Colin, and Quinn.

Nomination:
Laura is one of the most dedicated nurses I have known. She always puts the nurses and the patients in the front and center as her priority. Recently we had a very complex cardiac patient who was being delivered. Through her work on the taskforce she created and implemented a plan of care for this infant. She worked side by side with the delivery team to stabilize the infant then went to the PCICU with the baby to be at the bedside with their team and educate them on newborn neonatal care.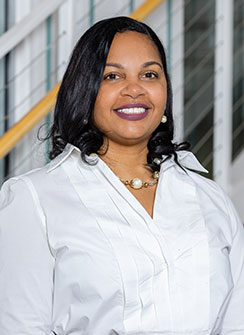 Diana Baptiste, DNP, RN, CNE, FPCNA, FAAN
Associate Professor, Johns Hopkins School of Nursing

Dr. Diana Baptiste specializes in cardiovascular care and prevention. Her sustained scholarship focuses on cardiovascular health across the care continuum, grounded in responding to health disparities and social justice issues influencing health outcomes. Respect for diversity, equity, and inclusion is grounded in her teaching, research, and moral values; with the goal of fostering safe learning environments for students and positive relationships with patients, families, and communities.

Nomination:
From doing research on health equity topics to uncovering the diverse hidden figures of nursing to serving as the faculty advisor to the Black Student Nurses Association and more, the promotion of diversity, equity and inclusion are evident in Diana Baptiste's published work, teaching, and academic and community service. Diana brings her own background and unique life experiences as an African-American woman and nurse to her work to promote health among vulnerable populations.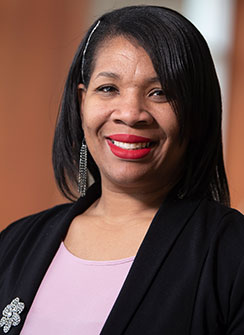 Tyreesia "Angel" Johns, BA
Campus Operations Coordinator

Tyreesia (Angel) Johns is the Campus Operations Coordinator for Campus Operations. Angel has been a Hopkins employee for over 19 years. She has been a SON JHU employee for the past 3yrs. She loves supporting people, traveling, shopping and being a mother. One day soon she hopes to obtain a Master of Science degree in Counseling from Johns Hopkins University.

Nomination:
For two years, while others worked from home, Angel was on site making sure that everybody's mail was opened, scanned and delivered to them. She ordered supplies that had to be delivered to every individuals homes. When people needed things, and weren't willing to come in and get it themselves, even when they were allowed back into the building, she went out of her way to assist. She did all of this during a pandemic, during construction, and with a constant threat of COVID. This was was over and above what was expected from her main duties and she did this extremely well.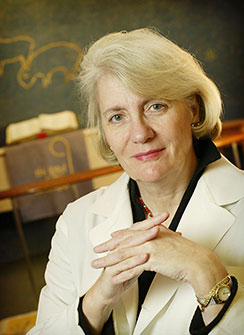 Diane Becker

A 1964 graduate of the Johns Hopkins Hospital School of Nursing, Dr. Becker was nursing director of intensive care units in London, Boston, and Chapel Hill, NC, before Dr. David Levine recruited her to the Johns Hopkins School of Medicine faculty in 1984 as a researcher in cardiovascular disease prevention. In 1987, she was the first nurse to receive a primary academic appointment in the School of Medicine, in the Department of Medicine Division of General Internal Medicine, with a joint appointment in the Bloomberg School Department of Health Policy and Management.

At the School of Public Health, Dr. Becker completed a master's of public health in 1979 and a doctor of science in health policy and management in 1984. Her doctoral thesis on cardiovascular risk in siblings of adults with premature coronary artery disease grew into a landmark NIH-funded cohort study. With her colleague and husband, Lewis Becker, a professor in the Department of Medicine Division of Cardiology, she founded the Johns Hopkins Sibling and Family Heart Study (now known as GeneSTAR). This unique family study recruited over 4,000 participants from two generations, collecting data over 35 years to investigate genetic and lifestyle risk factors for early heart disease. Today, the Sibling Study continues to produce new knowledge regarding biological, genetic, behavioral, and socio-cultural risk factors for cardiovascular disease, as well as effective interventions to lower overall cardiovascular risk profiles in the families of individuals with genetic markers for the disease.

Dr. Becker partnered with pastors from 250 East Baltimore churches to form the award-winning Heart, Body, and Soul, Inc., an independent nonprofit organization designed to create real-world healthcare delivery alternatives in inner city African American communities. At the Johns Hopkins Brancati Center for the Advancement of Community Care, she was the founding director of research, focusing on community diabetes care and prevention in East Baltimore. Her work at Johns Hopkins to reduce health disparities was recognized with awards from the American Heart Association, American Association of Medical Colleges, and President George W. Bush. In 1995, she was awarded a prestigious Robert Wood Johnson Foundation and Institute of Medicine Federal Health Policy Fellowship and worked in the office of Senator John Chafee, a member of the U.S. Senate Committee for Medicare and Low Income Families.

A passionate supporter of the John's Hopkins Nursing Alumni Association, Dr. Becker worked with some 100 classmates to raise more than $500,000 to fund the Class of 1964 Terrace as part of a 45,000-square-foot expansion to the School of Nursing's Anne M. Pinkard Building.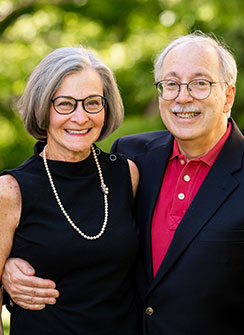 Eunice & David King

Eunice and her husband, David, have been married for over 51 years. They met as students at the University of Pennsylvania, where Eunice went after graduating from Hopkins Nursing to pursue her BSN. Continuing her education at Penn was assisted by a scholarship from the Hopkins Alumni Association, which meant so much to Eunice.

Upon their graduation from Penn, Eunice and David moved to Cambridge, MA, where David attended Harvard Law School and Eunice earned her MS in Mental Health Nursing from Boston University. In 1974, they moved back to Philadelphia where David began his legal practice and Eunice spent the early portion of her career as a psychiatric nursing clinical specialist and faculty member at Villanova University. Eunice received her Ph.D. in Human Development from Bryn Mawr College in 1988, subsequently spending the next several years as a behavioral researcher and program evaluator at Fox Chase Cancer Center. For the 15 years, prior to her retirement in 2015, she was the Senior Program Officer & Director of Research and Evaluation at the Independence Foundation in Philadelphia, Pennsylvania.

David as well had many stages in his professional career. As a lawyer, he specialized in representing life science companies and venture capital firms. After over 25 years in the practice of law, David got the entrepreneurial bug and left to become CEO of Principia Pharmaceutical Corporation, which became part of Human Genome Sciences, Inc. He then became president of Delsys Pharmaceutical Corp., a drug delivery company that was acquired by Elan Corporation. Thereafter, David became a co-founder and the CEO of BioRexis Pharmaceutical Corporation, which was acquired by Pfizer, Inc. After the sale of BioRexis, David joined a life sciences venture capital firm from which he retired in 2014. Throughout his career David has received numerous awards in recognition of his contributions to the life sciences. He has also served on many corporate and non-profit boards.

Both David and Eunice know how important well-educated nurses are to our health care delivery system and appreciate the cost of providing and obtaining a high-quality nursing education. They have been, and will continue to be, avid supporters of the Johns Hopkins School of Nursing. To celebrate Eunice's birthday and recognize Eunice's 50th class reunion from Hopkins Nursing, the King family established a scholarship in her honor, and funded the Eunice King Student Nurse award given out at the Evening with the Stars.