"Troublemakers for Good: How Nursing is Challenging and Improving Conventional Health Norms"
Date: November 7, 12 PM – 1 PM
Location: Carpenter A
RSVP to [email protected]
The panel will feature several "health disrupters" sharing their experience seeking change within their institutions, communities, and in government to improve the health and lives of individuals and communities around the world. Dean Sarah Szanton will be the moderator.
View the Health Policy Outlook Series Flyer
panelists
Alexis D. Bakos, PhD, MPH, RN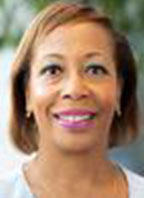 Alexis D. Bakos, PhD, MPH, RN, is Program Director of the Supportive Care and Symptom Management portfolio in the Division of Cancer Prevention, Community Oncology and Prevention Trials Research Group, at the National Institutes of Health where she oversees extramural research on the prevention or treatment of acute and chronic symptoms and morbidities related to cancer and treatment interventions. In addition, Dr. Bakos assists in the management of the NCI Community Oncology Research Program (NCORP). Dr. Bakos has worked in a number of research positions within the federal government, including serving as Chief of the Diversity Training Branch within the Center to Reduce Cancer Health Disparities (NCI) where she coordinated the management of programs designed to improve the diversity of the cancer research workforce and served as Program Director at the National Institute of Nursing Research, NIH, where her responsibilities included scientific areas related to end of life/palliative care, informal caregiving, and long-term care. She also chaired the NIH End of Life Scientific Interest Group. Dr. Bakos received a B.S.N. and an M.S.N. from The Catholic University of America, an M.P.H. from George Washington University, and a Ph.D. from Johns Hopkins University. Her education also included three years of postdoctoral training as an NCI Cancer Prevention Fellow. Dr. Bakos served on the U.S. House of Representatives Health and Long-Term Care Subcommittee as a Congressional Black Caucus Foundation Fellow and served as Congressman Edward Roybal's Health Legislative Assistant on the House Select Committee on Aging.
Natalia Barolín, BA, BSN, RN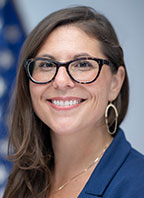 Natalia Barolín, BA, BSN, RN is the Senior Advisor for Health Equity in the Prevention and Population Health Group at the Center for Medicare & Medicaid Innovation. Prior to this role she was the Model Lead for the Accountable Health Communities Model at CMMI. She brings together her second career as a public health and oncology Registered Nurse with more than 15 years of experience in strategic communications and media advocacy in health care and policy. Natalia began her career as a nurse in a federally qualified health center serving Medicaid and Medicare patients and later worked in oncology care navigation with the Lombardi Cancer Center at MedStar Georgetown University Hospital before joining the CMS Innovation Center in 2019. Prior to becoming an RN, she worked as a project director in strategic and policy communications providing support and technical assistance to a range of government and nonprofit clients including the Robert Wood Johnson Foundation, the Institute of Medicine, the FDA Tobacco Regulatory Science Fellowship, and the Office of Training and Diversity in the National Institute of Allergy and Infectious Diseases. Natalia received her nursing degree from the Johns Hopkins School of Nursing and has a bachelor's degree in Latin American and Women's Studies from the University of Richmond. Natalia's family is originally from Uruguay and she speaks Spanish fluently.
Sabina De Geest, PhD, RN, FAAN, FRCN, FEANS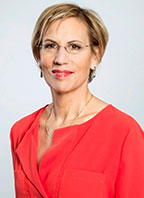 Sabina De Geest, PhD, RN, FAAN, FRCN, FEANS is a Professor of Nursing and Chair of the Department of Public Health of the Faculty of Medicine at the University of Basel (Switzerland). She co-leads the Leuven Basel Research Group, an international, interdisciplinary research group focusing on behavioral and psychosocial issues in solid organ & stem cell transplantation. Driven by implementation science methodology, her research portfolio focuses on the development of innovative care models partially powered by eHealth. In addition, her research addresses psychosocial and behavioral pathways and their relation to outcomes in chronic illness and the development and testing of instruments to assess patient reported outcomes. She is one of the founders of the Swiss Implementation Science Network (IMPACT) and leads the patient-reported outcomes part of the Swiss Transplant Cohort Study.
Fernando Mena-Carrasco, MSW, MSN, RN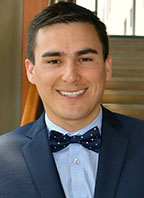 Fernando Mena-Carrasco, MSW, MSN, RN serves as Chief of the Center for HIV/STI Integration and Capacity at the Maryland Department of Health (MDH). At MDH, Fernando provides strategic oversight of public health programs that modulate determinants of infectious diseases and behavioral health outcomes. Prior to joining MDH, Fernando worked at the Johns Hopkins School of Medicine, where he led a team of Community Health Workers who assertively engaged individuals with limited English proficiency and other social vulnerabilities. Fernando has led clinical and policy initiatives in maternal and immigrant health as well as infectious diseases – both domestically and internationally. Fernando received a Bachelor of Social Work from the University of Iowa, a Master of Social Work from the Washington University in St. Louis, a Bachelor of Science and a Master of Science in Nursing from the Johns Hopkins University (Clinical Nurse Specialist in Adult Health). He is a licensed Registered Nurse in the State of Maryland.
Sarah Szanton, PhD, RN, FAAN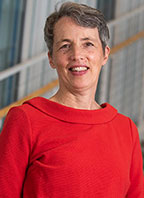 (MODERATOR) Sarah Szanton, PhD, RN, FAAN, Dean and Patricia M. Davidson Professor for Health Equity and Social Justice. Sarah Szanton is the fifth dean of the Johns Hopkins School of Nursing. A number of years ago, while making house calls as a nurse practitioner to homebound, low-income elderly patients in West Baltimore, Dr. Szanton noticed that their environmental challenges were often as pressing as their health challenges. Since then she has developed a program of research at the Johns Hopkins School of Nursing on the role of the environment and stressors in health disparities in older adults, particularly those trying to "age in place" or stay out of a nursing home. The result is a program called CAPABLE, which combines handyman services with nursing and occupational therapy to improve mobility, reduce disability, and decrease healthcare costs. She has tested the program's effectiveness through grants from the National Institutes of Health and the Innovations Office at the Center on Medicaid and Medicare Services. She has major funding from the Rita and Alex Hillman Foundation to build infrastructure for the CAPABLE program. She has also conducted a study, funded by the Robert Wood Johnson Foundation, of whether food and energy assistance improve health outcomes for low-income older adults. A former health policy advocate, Dr. Szanton aims her research and publications toward changing policy for older adults and their families.