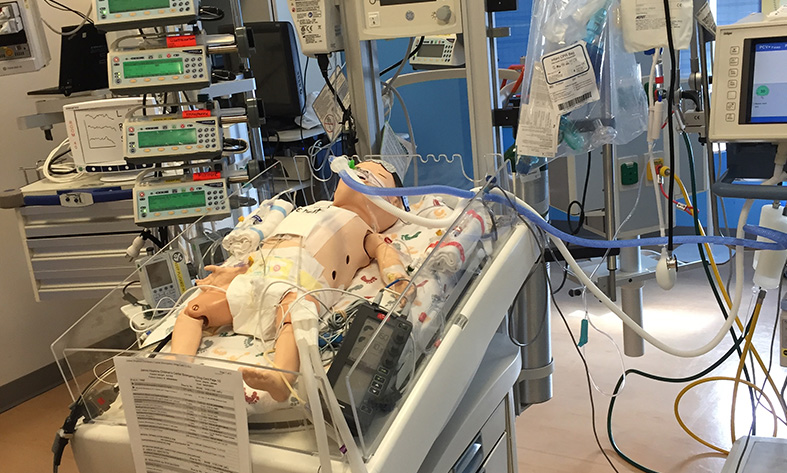 The VIRTUAL Zamierowski Pediatric Critical Care & Resuscitation (PCCR) Advanced Practice Simulation Boot Camp is a training with high-fidelity simulation, interactive small-group sessions, and case studies. This is your exclusive opportunity to be inspired, hear best practices, and hear from peers. Learn from the most talented experts in the field of pediatric care.
Participants will train firsthand with world-renowned experts in simulation, pediatric critical care, and resuscitation. These leading facilitators will provide interactive training sessions covering cardiac and neuro critical care emergencies, cardiopulmonary arrest management, leadership development, and much more.
Faculty for this event include experts from simulation, pediatric critical care and resuscitation.
Target Audience: Pediatric Nurse Practitioners (PNP) working in both Pediatric Intensive Care Units (PICUs) and Pediatric Cardiac Intensive Care Units (PCICUs). This training is geared to both the novice and the advanced PNP.
The boot camp will cover a wide variety of topics that PNPs manage in the PICU.
We will cover all aspects of pediatric critical care including:
the multiple forms of shock
resuscitation team training
the management of a child with both congenital and acquired heart defects
neuro critical care emergencies
ECMO and cardiopulmonary arrest
PNP leadership skills
Mobility in the critical care setting
VIRTUALLY
Fridays, June 4, 11, 18, 2021
8:00 am-1:30 pm
For questions regarding content:
Kristen Brown, DNP, CRNP, CPNP-AC, CHSE-A, FAAN
Assistant Professor, Advanced Practice Simulation Coordinator
(410) 502-7876
[email protected]
Twitter: @kristenb01
For questions regarding registration:
Executive Education
[email protected]
Registration Fee: $450
Full-time, benefits-eligible JHU Employees and Faculty may submit for 100% tuition remission.
Tuition Remission form
The boot camp objectives are to:
Train pediatric nurse practitioners on the recognition and treatment of multiple pediatric critical care emergencies
Teach new resuscitation techniques and incorporate the concepts of leadership and quality CPR (qCPR) coach
Teach team leadership communication skills
Discuss critical care mobility strategies
Virtual high-fidelity simulation
Case studies
Interactive small group sessions
Virtual 3-day workshop over 3 Friday mornings in June
Continuing Nursing Education
This 11 contact hour educational activity is jointly provided with The Institute for Johns Hopkins Nursing. The Institute for Johns Hopkins Nursing is accredited as a provider of nursing continuing professional development by the American Nurses Credentialing Center's Commission on Accreditation.
"An incredible learning experience in a safe environment. I felt more confident in my practice at the bedside after completing the Advanced Practice Boot Camp at Johns Hopkins."
"Excellent workshop geared towards the NP level of practice. There is no educational substitution for simulation and this program does a phenomenal job of throwing you right in with a very passionate staff to support you out of you comfort zone."
"As an experienced NP coming from a combined PICU/CICU unit I learned an amazing amount of information about physiology, codes, and about myself and my practice. Would recommend to novice and experienced NPs!"
"This is a great educational/ simulation conference geared towards pediatric NP's that puts you in real life scenarios and helps you train at the top level for your job. It is also a great way to network and meet other NPs."
Registration cancellations received prior to April 14, 2021 are eligible to receive a refund less a $200 service fee. Cancellations received April 15 – May 6, 2021 are eligible to receive a 75% refund. Cancellations received May 7 – May 21, 2021 are eligible to receive a 50% refund. Cancellations received after May 21 will not be eligible for a refund.
All refund requests must be requested in writing by the registrant or credit card holder. Refund requests must include the name of the attendee and/or transaction number. Refunds will be credited back to the original credit card used for payment. If payment was submitted by check, a check will be requested and processed for the refund. No exceptions.

Substitutions
A registration substitution can be arranged at any time without penalty.