MISSION
Promote a sustained and integrated interprofessional education model that informs the education, practice and research of healthcare professionals to improve quality of care for patients, families and communities.
VISION
Ensure all patients, families and communities consistently benefit from providers working respectfully and collaboratively in a highly functioning team-based environment.
EDUCATION
Communication plays a valuable role in providing care for patients which is why students are being thought interprofessionally in simulated environments.
RESEARCH
Johns Hopkins is developing a sustainable IPE curriculum model for the pre-licensure nursing and medical students professional programs.
PRACTICE
Our students and faculty share and grow their interprofessional knowledge as they work, learn, communicate and collaborate on healthcare issues.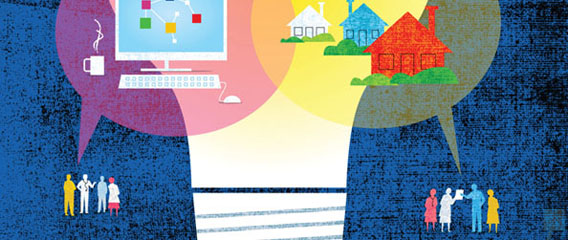 Contact: [email protected] | IPE Intranet Login
From Silos to Synergy
Interprofessional Education Initiatives Find Warm Welcome at Hopkins
By Rebecca Proch
A Fitting Tribute
The phrase "working in silos" comes into almost any conversation with Hopkins students or faculty about the value of IPE. For Elizabeth (Ibby) Tanner, PhD, RN, associate professor in the School of Nursing's Department of Community Public Health and School of Medicine's Division of Geriatric Medicine and Gerontology, it's how she describes the earliest challenges facing the cross-disciplinary faculty group that eventually envisioned the Daniels Initiative. "We [medical and nursing faculty] met to discuss how we might jointly educate prelicensure nursing and medical students, as well as advanced practice nursing students and residents about caring for complex older adults," she recalls.
"But, we found that we had very little practical understanding of each other's curricula and educational models. We had learned and worked in silos ourselves, so we had to learn from each other first in order to figure out how to teach collaboratively."
The Daniels Initiative grew out of a five-year gift from the family of Worth B. Daniels Jr., MD. Now in its second year, it teaches the skills of interprofessional collaboration to nursing and medical prelicensure students, as well as nurse practitioner and medicine residents, through partnered learning. This includes learning to collaborate by working together to provide home-based care to low-income older adults living in the community, and participating in problem-based learning sessions. The students also examine the perspectives of their colleagues from different health professions by discussing the assumptions they have about each other's discipline, training, experience, and practice.
"These experiences give students time to learn and grow together," says Dr. Laura Hanyok, MD, School of Medicine assistant professor. Hanyok, along with School of Nursing assistant professor, Kathleen Becker, DNP, RN, CRNP, are founding faculty members of the Daniels Initiative. "Our residents say they wish they'd had this chance sooner, so we're looking at ways to integrate this approach throughout the entire three-year residency program."
Reproduced from Johns Hopkins Nursing, Spring 2012
Resources