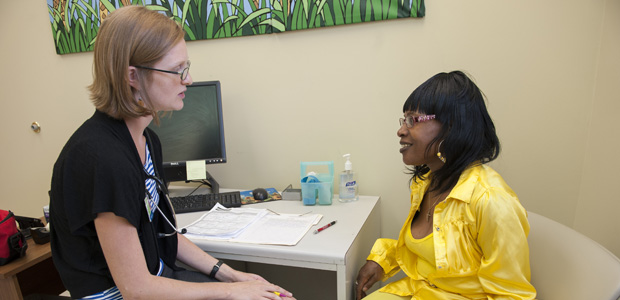 Ask a Nurse
Overview
Founded in 1994 at the Rutland Center in East Baltimore, the Johns Hopkins University School of Nursing Lillian D. Wald Community Nursing Center was the University's first nurse-managed center. Today, the Wald Center, located on 901 N. Broadway St., is one of the few health programs in Baltimore City providing nearly barrier-free health services—at no charge—to low-income, uninsured, or underinsured residents.

Part of the East Baltimore Community Nursing Centers, the Wald Center reduces health disparities and serves vulnerable populations by providing opportunities for student learning, faculty practice, research and scholarship through public health nursing interventions in partnership with community based organizations.
Employment is also available to students as clinical nurse associates during their undergraduate experience and as community health nurses if they are enrolled in the School of Nursing graduate program.
Goal
The primary goal of the Center is to promote the health and well being of individuals by providing interim ("gap") nursing services to expedite their participation in educational and occupational opportunities in the community and facilitate their connection with established primary health care resources.
Services
Services Provided
TB Screening

Assess for Health and Social Challenges (Based on Social Determinants to Health)

Individualized Health Counseling to assist clients:
• Navigate through complicated health care system
• Apply for health insurance
• Locate Primary Care Provider
• Connect with community agencies to further assist with mutually identified challenges
Health Education (individual and group)

Health Promotion activities

Wellness Boot Camp.
Current Outreach Locations
Johnston Square Apartments

Israel Baptist Church

Northeast Market – Day at the Market

Ask a Nurse