President – Gianni Montero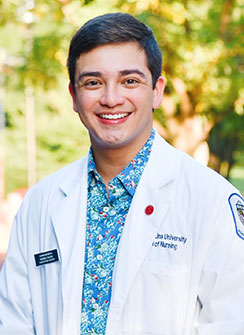 Gianni was born and raised in Edinburg, located in the deep roots of South Texas. At the age of ten, he started dreaming of becoming an anesthetist, motivating him to pursue a higher education that ultimately leads him to a healthcare career. He began his journey at The University of the Incarnate Word, located in San Antonio, Texas, where he earned his Bachelor of Science in Biochemistry in Spring 2019. During his undergraduate career, Gianni worked in the Baptist & Methodist Healthcare Systems as a medical scribe in the emergency departments with ProScribe for three years. He was promoted to Clinical Trainer & Site Coordinator for Methodist Stone Oak Hospital upon graduating from his university. Gianni truly enjoyed his clinical experience as a medical scribe. Still, he knew it was time to take the next step in his journey, leading him to pursue his Masters of Science in Nursing at Johns Hopkins School of Nursing. After earning his MSN, he plans to gain his nursing experience in critical care before moving on to fulfill his dream of getting his DNP in Nurse Anesthesiology and become a CRNA. Gianni is humbled and beyond excited to serve as President of the Student Nurses' Association for the 2021-2022 academic year! When Gianni isn't studying, he loves to go out, stop, and smell the rosé. Gianni enjoys photography, whether it's in front or behind the lenses of his Nikon D5600. He also enjoys spending time with his supportive family, two loving dogs, and his dearest friends.

Vice President – Sutikan Parkeenvincha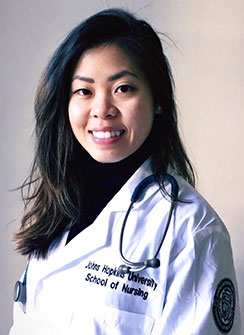 Sutikan was born in Bangkok, Thailand and later moved to San Francisco, California, where she received her undergraduate degree in Biology (Physiology) and Chemistry at San Francisco State University. During her studies, she was a research assistant for the Neuropathology of Alzheimer's Disease project and worked in pediatrics as a medical scribe. After graduating, she worked at Stanford University as a Medical Assistant. She discovered her passion for patient advocacy and healthcare leadership during her medical abroad to Ecuador while volunteering in health clinics and teaching English to underserved communities. Throughout this experience, it allowed her to serve individuals while growing personally and professionally. She knew that she wanted to advance her career, which led her to pursue her Master's degree at Johns Hopkins University School of Nursing. She is currently involved in various extracurricular activities, including the Research Honors Program, Nursing Student Senate (Curriculum Committee Representative), Sigma Theta Tau, Critical Care Interest Group, and Global Health Interest Group. In the future, Sutikan is interested in pursuing a doctoral degree in nursing practice. Recently, she participated in a competition where she won 1st place for the United States Powerlifting Association. During her free time, she enjoys playing volleyball and kickboxing. Sutikan is honored to be a part of the Student Nurses' Association to serve as Vice President.

Secretary – Simona Scheiber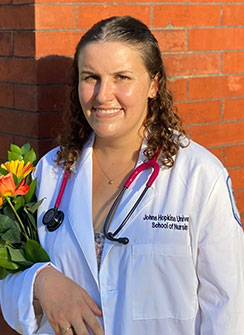 Simona was born and raised in Cincinnati, Ohio. From a young age, she has always had a passion for the healthcare field as all members of her immediate family are involved in healthcare. Simona worked for four summers as an intern at a Reproductive Health Clinic, and this further confirmed her interest in pursuing nursing school. Her future plans are to become a pediatric nurse, with the goal of working in critical care and to serve as an advocate for Latinx patients that have limited English proficiency. Simona's fluency in Spanish has always sparked an interest in working with the Latinx population. Simona received her Bachelor's of Science in Psychology from Tulane University in New Orleans, and upon graduation in 2020, moved directly to Baltimore to start the MSN Program in August of 2020. During her time at Tulane, Simona was a volunteer in a local Emergency Department. Simona is currently involved with the Pediatric Interest Group as the communications officer. In her free time, Simona loves to engage in all things ocean activities like scuba diving, sailing, surfing and swimming. Simona also enjoys travelling and has been fortunate enough to travel to more than 54 countries! Simona is greatly looking forward to working with the SNA Board this academic year, as she describes her time in her first semester of nursing school to be positively influenced by SNA.



Treasurer – Leslie Chan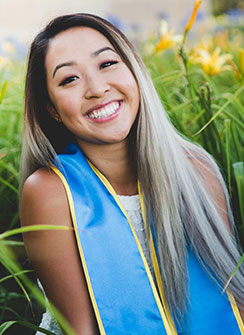 Leslie was born and raised in Los Angeles, California. She attended the University of California, Santa Barbara for her undergraduate studies and received a B.A. in Economics & Accounting. After graduating, she worked as a Financial Auditor in a public accounting firm until she decided it was time for a career change. Leslie spent a year interning at an inner city hospital floating through numerous specialties and volunteering at a level 1 trauma center before moving to Baltimore to begin her nursing career. Leslie is interested in dermatology and aesthetics, but is undecided about what specialty she will be pursuing after graduation. She is open to any opportunities and experiences that may come her way. In her free time, she can be found spending time with her friends, facetiming her family and fur baby, Dexter, taking care of her plants, and exploring the East Coast food scene.
Historian – Melissa Rayment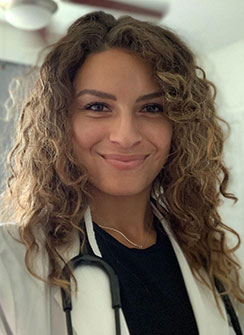 Melissa was born in New London, Connecticut, and raised in Norwich. At a very young age, she always knew she wanted to work in healthcare. As time progressed, she attended the University of Connecticut, where she attained two degrees, one in Psychology and another in Human Development and Family Sciences. During her studies, she was a research assistant for the ACT project focusing on youth and educational outcomes and participated in UConn's Solo-Lab for Psychology regarding cognitive behavior. After graduating as New England Scholar, she continued to work within the hospital as a patient attendant. She also contributed her time towards recently incarcerated women, helping them become functional citizens within society. Based on her experiences, she decided to pursue nursing. Melissa was eager to advance her education, which led to the Master's Degree at Johns Hopkins University School of Nursing. After graduation, she plans to gain nursing experience within a Psychiatric Unit and pursue her DNP specializing in Psychiatric Mental Health at JHU. During her free time, she enjoys spending time with loved ones, her crazy, cute Chow Chows, Mesha, Finn, and Bella , working out, hiking, snowboarding, and camping! Melissa is happy to be a part of the Student Nurses' Association as the Historian.
Resolutions Committee Director – Kara Anderson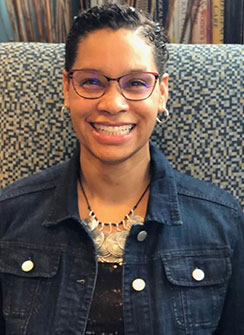 Hello! My name is Kara and I am a Spring 2022 MEN candidate. I grew up in St. Louis Missouri, but I have lived in Michigan, Illinois, Kansas, Georgia and I moved to Baltimore from Washington State. I graduated from McKendree University in Illinois where I received a B.A. in Sociology and minored in Psychology. I have worked as a CNA in a memory care unit as well as in a hospital on the Oncology unit, however, my true passion is Pediatric Palliative Care. Since starting the MEN program, I have become a volunteer at Henderson-Hopkins Elementary School delivering food to families in the community. I am also on the leadership board of the Palliative Care Interest Group, part of the Pediatric Interest Group, and on the SOURCE Student Governing Board. I enjoy sports and a perfect sports day for me involves watching all three forms of football, American (NFL), European (Soccer), and Australian (Rugby). I am excited to be a part of SNA and I'm looking forward to working with others making a positive impact in nursing.
Community Outreach Co-Director – Christina Arciniega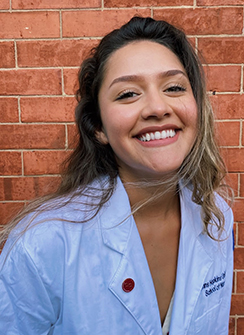 Christina is from Southern California and attended the University of Redlands for her undergraduate studies. After receiving her B.A. in Biology with a minor in Psychology, she began her healthcare journey. She spent a year as an emergency department medical scribe before completing an EMT course. She discovered acute care was her jazz during her two years as an ER technician at a Level 1 Trauma Center. She is excited to pursue a career in acute care focusing on disaster relief and emergency medicine. One day she hopes to continue her education and earn an advanced practice degree. It's her first semester in the MEN program and she's very excited to get involved with her new community through SNA, even if that means endless zoom meetings! During free time she enjoys exploring new food spots, rewatching the same sitcoms, hiking, and facetiming friends/family.

Breakthrough to Nursing – Stephanie Vargas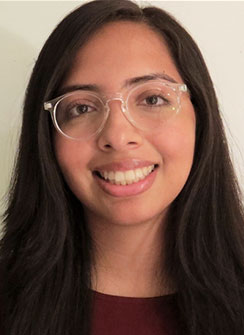 Stephanie was born and raised in a region known as the South Bay located in Southern California. She attended Biola University where she got a B.S. in Biological Science and a minor in Biblical & Theological Studies. Stephanie has always had an interest in healthcare and was interning as a Cope Health Scholar at St. Mary's Hospital during and after her undergraduate years. While interning, she also served as a quality care management coordinator for the patient experience ambassadors where she became more familiar with the role of nursing and its impact on patient outcomes. Stephanie loves research and worked with Zebrafish, studying their caudal fin regeneration abilities, during her undergraduate years. She also loves getting involved in her community and helped organize free community health fairs prior to the program. After graduating, she shifted to research in cardiovascular disease at the Lundquist Institute, worked as a medical scribe, and a patient coordinator. Stephanie loves that as a nurse she can practice her love for science, community, and patient care. When not studying, Stephanie enjoys playing the drums (or anything music related), spends time with loved ones and her pup Bella, and likes to explore new places to eat. Stephanie is honored to be serving as the Breakthrough to Nursing chair.
Cohort 11 Class Director – Madison Chase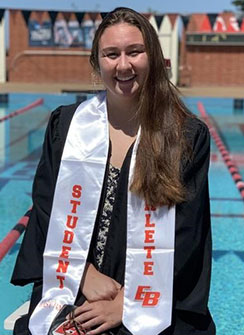 Madison is from the bay area of California where she went to California State University East Bay and received her Bachelors of Science in Health Science. Madison always knew she wanted to be a nurse, she was raised around nurses, as her grandmother was a nurse and many other family members of hers. At the start of Madison undergraduate studies she did not know where she wanted to go with nursing but still knew she wanted to be in the healthcare field. Later during her studies at East Bay she became an intern at an obstetrics and gynecology clinic where she was able to work with high risk pregnancies. This is where she fell in love with women's health and knew she could become an advocate for better healthcare in this field. Madison's goal after Hopkins is to work in either a labor and delivery or mother/baby position and then later pursue her DNP in Women's Health. One of Madison's other passions include swimming, as she swam for 13 years of her life and was a collegiate athlete. She also loves plants and is a fairly new plant mom. You can catch her on her free time hanging out with her friends, at the mt. vernon farmers market or trying out new places for coffee.
Cohort 12 Class Director – Emily Furuichi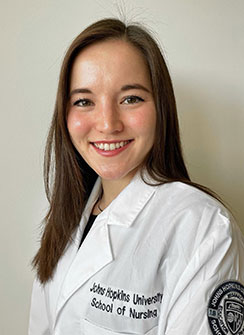 Emily was born in Tokyo and grew up in Michigan from the age of four. She got her B.S. in Movement Science from the University of Michigan in 2017. During her time there, she worked as a research assistant in a Human Neuromechanics Laboratory and as a Physical Therapy Aide at a sports medicine and physical therapy clinic. After graduating from undergrad she lived in Tokyo for three years, studying Japanese and working as a recruitment consultant in the pharmaceutical industry. She has always been interested in the healthcare field and really started to think about nursing when she was caring for her grandmother during the pandemic. After graduating with her MSN, she plans to work in L&D for a few years before becoming a certified Nurse Midwife. You can catch her running marathons, playing soccer, or trying out a new coffee shop.